How to Edit your Active Listings in Bulk
Posted on Tuesday, September 27, 2022
Written by Van Guno
We all know that managing a large number of listings one by one is a long and tedious process, but HipComic has got you covered. Our Bulk Editor tool allows you to easily edit and manage listings all at once.
Here's a quick breakdown of how to use the tool:
Head to the Listings page (Members Area > Selling > Listings). At the top left of the page, click on the drop-down menu and you will see the following options: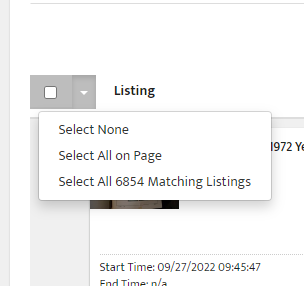 In the example above, the store has a total of 6,854 available listings that can be edited.
Choosing the "Select All 6,854 Matching Listings" option will mark all of them.

You can also pick and choose the listings you want to edit one by one by ticking the square box beside each listing if you only need to edit a few of them.
After selecting all the listings you want to edit, you can then scroll to the bottom of the page and click on the "Bulk Edit" button. Once the Bulk Edit window appears, you will see most of the same fields you would when creating a new listing, or editing an individual listing, such as Shipping Costs or Enabling Offers.
Click "Edit" next to any field you wish to change and make sure to review your changes. Hit the "Update" button when you're done and you're all set!
Have any more questions? Reach out to the Seller Success team at
support@hipcomic.com