Home
›
Chatter
›
Stamp Reviews
Franklin-Washington - Taming the Beast Part 4: Perforations (Or Not)
The perforation is an excellent way to narrow down your selection in just what is it you have with the Franklin-Washington.
While most of you are familiar with perforation gauge, some are not. And those that are, may not be familiar with the specialty gauge.
While the specialty gauge has many purposes, it is the FW's that it is used most often with in US philatelics, particularly because not only does it cover the "usual suspects" of perforation, it enables precision measurement of perforations (which is extremely valuable for fake detection). It also covers private perforations - The "Vending and Affixing" machine perfs, and in addition is invaluable in determining coil authenticity.

A quick rundown on the gauge above:
At far right, the gauge which ranges from perf 16 to 8, with diagonal lines linking from high to low, a stamp can be moved along the diagonals to give you exact measurement of perfs.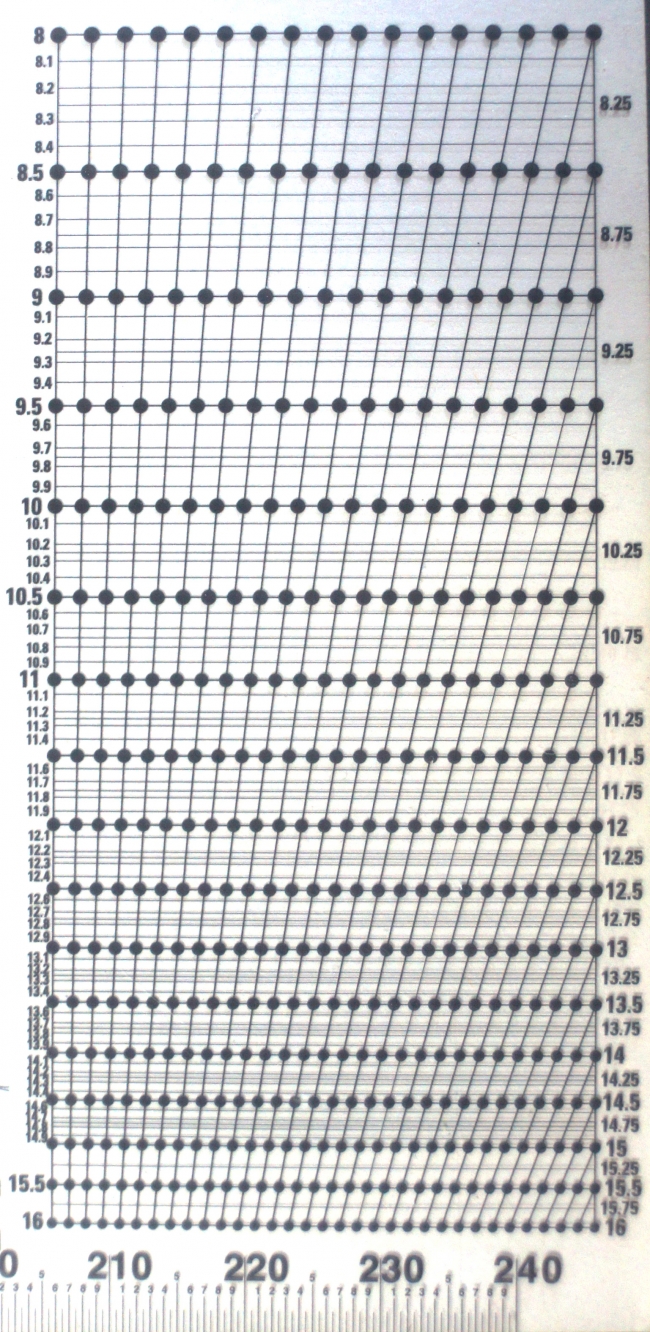 At the risk of being parochial, I will explain how to use a perf gauge correctly. I have seen many people use a standard pocket gauge by "aligning" the perf tip to the tip of the gauge. This does NOT give you an accurate measure of the perf. The proper way is to align the bottom of the perforation with the perforation well. The following image illustrates this point.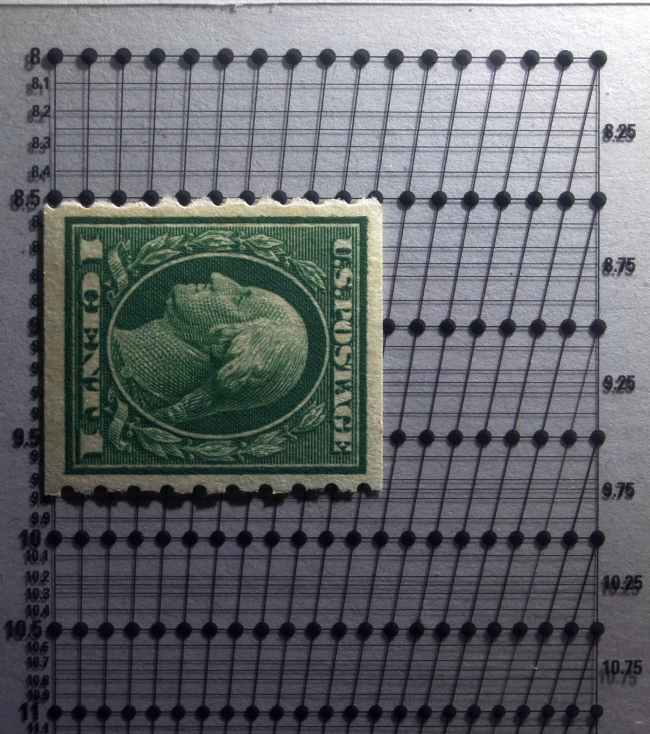 In the image above, we're checking the perforation on a coil stamp. This coil is 8.5 perforation... or is it?
Note that close examination in the first image 8.5 doesn't quite line up. As we push the stamp up the gauge in this case, we see that it aligns more accurately to 8.35 perf. This is a DIFINITIVE clue that this perforation is not genuine. It's close, but close, but close doesn't count especially in Coil validation.
At this stage I want to introduce why you need the precision gauge as opposed to typical "pocket" gauges.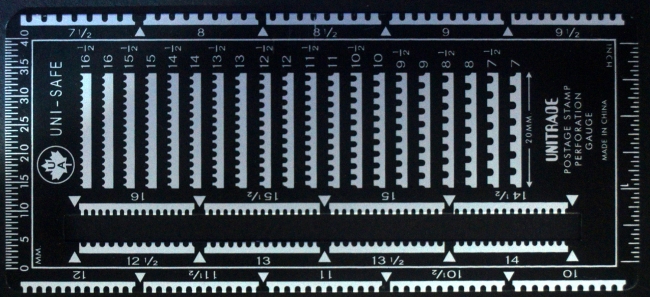 Above is an example pocket gauge. For many issues, this gauge is fine. But if you have concern about fakery, then this gauge isn't accurate enough. This image demonstrates why: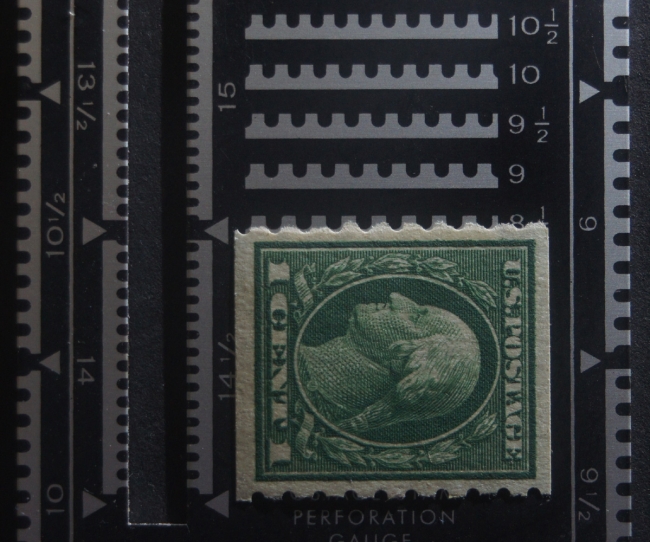 Note that the non-specialized gauge could construe that the perf is ok. This is because these gauges are designed for "short edge" which is fine when you're not dealing with fraudulently applied perforation. It's even worse when used in appropriatly:
Don't use this gauge this way. The problem is perforations "separate" at different points, and it's not possible to predict where/how. Perf is defined at the bottom of the perf, not from perf tips. I'm demonstrating this to show how inaccurate this method is, and why you should never use any gauge this way. These examples are all the SAME stamp. Not how much more specific the specialist gauge provides clarity. Use the pocket gauge when you're at a stamp show for most issues, but not for validation of FWs.
This demonstrates why and how you want to use the specialist gauge for standard perf. I'll now go into the other parts of the specialty gauge for IDing FWs.
As we look at the specialist gauge looking to the left, past the "Target" and vignette of the 10c, you will encounter the "Private perforation" gauge area. This area indicates the measures for private perf: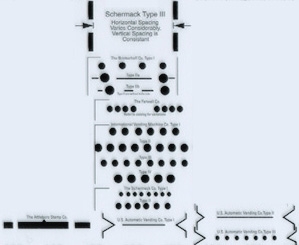 Used in the same way as the perforation gauge, you align the private perforation with the specialty gauge. One advantage of this transparent gauge, is that the stamp may be positioned on top of the gauge, or UNDER the gauge. For private perfs this can be particularly useful.
The following are Private Perforation. One of these if fraudulent, can you tell which one?
US Autovend
Brinkerhoff I
Brinkerhoff II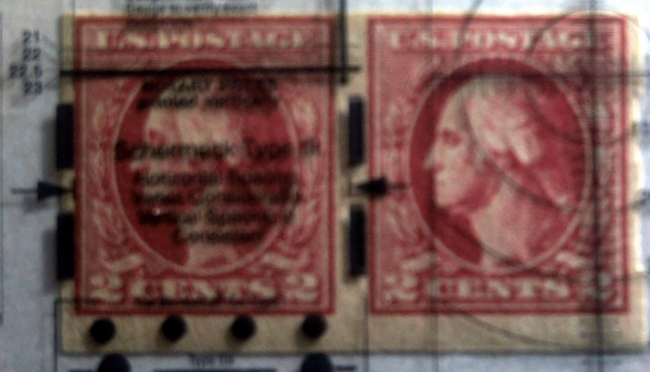 Shermack III
The last area of specific use for coil validation (though I'll do another detailed posting on this), is the upper left. This block is useful for the "parallel lines check". When imperf sheets or perforated pairs are cut by hand, they are not accurately parallel. Using this section, you can align one side to the bottom line, and check that the upper line is perfectly parallel. When it is not, it is highly suspect that it is not a genuine coil. Also, height (or width if turned 90 degrees) can be determined. An authentic coil should be 25.5mm tall (for horizontal coils) or 21mm wide (for vertical coils). It is possible to be slightly less than this (about 1/2 mm) but anything more than that is disqualified as a coil stamp.