Boost Your Sales by Enabling Automatic Offers and Make an Offer
Posted on Monday, December 5, 2022
Written by Van Guno
Looking for a way to increase your monthly sales? Enabling offers on your listings is a quick and easy way to move inventory and grow your customer base.
On HipComic, we offer two ways to encourage offers on your listings: Automatic Offers and Make an Offer. Check out our guides for enabling them below:
Automatic Offers
Through the Automatic Offers feature, we automatically send limited-time offers on your behalf to buyers who have expressed interest in your listings. Offers are sent after a fixed period of time to help ensure you're not sending discounted offers to buyers who were already ready to make a purchase.The best part? You set the parameters of the offer once and then there's no further action needed on your part.
Step One: Enable Automatic Offers via the Automatic Offers Setup Page
Once you're on the setup page, you may choose to enable Automatic Offers only for listings with the "Make an Offer" option allowed or to all your Fixed Price listings.

Step Two: Set the Discount Tiers for the Feature
Through this setting, you may further specify the listings you want to be included in the Automatic Offers feature and input how much of a discount you are willing to offer potential customers. Buyers are more likely to purchase at discounts of 15% or higher.

Step Three: Determine the Schedule for When Automatic Offers Start
Finally, you may choose when the Automatic Offers feature is enabled on your listings. For example, selecting items that have been listed for 30 days or older can help clear out hard-to-sell inventory.

Make an Offer
The "Make an Offer" feature enables buyers to directly submit offers on your listings. In this setting, the buyer sends the first offer, but it also allows you to negotiate with them to land on a price that works for both of you.
Step One: Enable the "Make an Offer" Feature on Your Listings via the Default Listing Settings Page
Scroll down to Listing Settings as seen below and tick the Accept Offers checkbox:

This will ensure that all listings you create from here on out will let potential buyers send you an offer for those listings.
If you prefer to have a select number of listings with the "Make an Offer" option, you may head on over and edit that specific listing. Under Pricing, you may then enable Allow Offers as seen below: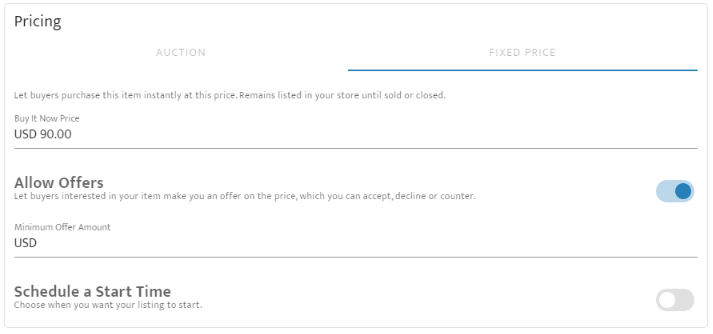 Step Two: View Your Offers from Buyers via the Offers Page
You can see all existing offers on this page, and you may proceed to either Accept, Decline, or Message the potential buyers:
By clicking on the View Offers page, you can send messages to the potential buyer and view any other details regarding the offer.
Enabling one or both of these options is a quick and easy way to increase your chances of selling items in your store. Have further questions? Reach out to the Seller Success team at support@hipecommerce.com.