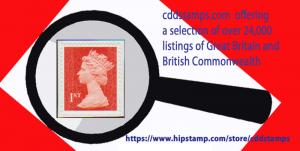 Commemorative Definitive Decimal Stamps: full & correct descriptions, sensible pricing 15,000+ GB; 20,000+ Brit Comm. Selling since 2001 when lived in Australia now living in Philippines. I am a Director of the IPDA and abide by their Code of Ethics
cddstamps  has been selling  for more than 20 years and collecting for much longer.  We have  learnt about GB and British Commonwealth along the way and now focus our attention on selling  quality  British Commonwealth stamps to help collectors fill gaps in their collection at affordable prices.
Over the years we have added to  and improved our stock,  included SG and Scott catalogue references and where it seems in the best interests of the collector we add  images of the reverse of the stamp and even phosphor differences and watermark details.