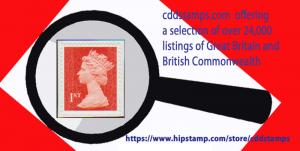 Commemorative Definitive Decimal Stamps: full descriptions, sensible pricing; Selling since 2001 when lived in Australia now in Philippines. Yes we are badged APS member but our stamps, pricing & shipping is still cddstamps quality.
We give a guarantee about our stamps and any issue is always resolved by a full no argument refund. On more expensive stamps we ask for that stamp or stamps to be returned to us and we refund the postage. This has happened only once since we started online selling.
cddstamps overarching policy is to take actions in describing, scanning. listing. packing, shipping and communicating  to ensure a satisfied and repeat customer.